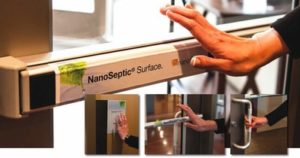 The Mid-State Group is an authorized distributor of NanoSeptic self-cleaning products, through Forest's NanoTouch Materials, producer of the next generation of continuously self-cleaning surfaces. The New Clean® means less worry and a healthier environment—at work, school, in healthcare and travel.
Lab testing has proved NanoSeptic products are effective with COVID-19. The company now has customers in China, South Korea, and Singapore along with distributors in 30 countries.
NanoSeptic Skins and Mats turn dirty high traffic, public touchpoints into continuously self-cleaning surfaces. Powered by light, NanoSeptic surfaces utilize mineral nano-crystals which create an oxidation reaction stronger than bleach. Working 24/7, the surface continually oxidizes organic contaminants. Unlike traditional disinfectants and cleaners, the NanoSeptic surface uses no poisons, heavy metals or chemicals, and nothing is released from the surface since the nano-crystals are molecularly bonded to the material.
"We're delighted to partner with Nano Touch as a distributor to help our clients across Central Virginia have less worry and a healthier environment—at work, school, in healthcare and travel," said John Austin S. Basten, Mid-State president. "This outreach aligns with our mission to empower healthier workplaces, teams and individuals."
NanoSeptic products are especially useful to doctor and dentist offices, private schools and daycare facilities, restaurants, hotels, and retail stores, etc. Products include desk mats, mouse pads, door push/pull handle wraps, door push pads, tissue box covers and others.
Contact nanoseptic@themidstategroup.com to inquire about NanoSeptic products for your business or facility along with reseller or distribution opportunities.