LYNCHBURG VA — Seven local teachers have won extra funds for educational enrichment projects, supplementing the money they usually spend out of pocket.
About 94 percent of public school teachers spend their own money on classroom supplies without reimbursements, according to federal data. The U.S. Department of Education estimates teachers spend an average of $500, with some 7 percent cresting to over $1,000 a year.
More than $2,750 was donated by area sponsors Valtim, Carol's Place, Randall Trost, The Arc of Central Virginia, and Seven Hills Auto Spa in the second round of Mid-State's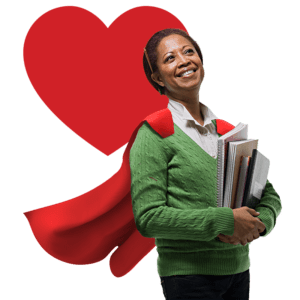 Creative Teacher Campaign, launched last fall.
The public is invited to the free awards ceremony April 1 at 5:30 pm at Golf Park Coffee on 2306 Bedford Avenue.
$500 Winners
– Bryanna Boyd – Heritage High – 10th Grade – English
– Amanda Dean – Forest Middle – 8th Grade – Math & Applied Arts
– Shayna Crews – Liberty High School – Grades 9-12 – Theatre & Dance
– Carrie Lewis – Sandusky Elementary – Grades 3-5, Gifted, Math Coach
$250 Runners Up
– Kristy Genung – Linkhorne Elementary – 2nd grade – English, Science, Math, Social Studies
– Angela O'Brien – Home School – Grades 4-6 – English
– Jacquelyn Phillips – Dearington Elementary – 3rd grade – English, Science, Social Studies, Special Ed
To qualify for funding, area teachers at public, private, or co-op home schools completed a survey about their educational role and how they would use the funds. Peer nominations for area schools were began in January; the Facebook voting and comments phase ended March 1. The third nomination round begins in April.
The Creative Teacher Campaign is an outgrowth of Mid-State Cares 365TM, a community volunteerism initiative. Every employee of The Mid-State Group has 36.5 hours of paid time off a year for community service.
"Our goal with this project is to make sure that our teachers have everything they need in order to better prepare our future generation. It truly does take a village to raise a child," explained Hope Scott, director of Mid-State Cares. "Our teachers work endlessly to make sure that our children are prepared for the future. It takes a special kind of person to do that."